Dear visitors,
We are a family business, founded in 2005. We transport you to or from bus or train stations, harbors or airports.  Lately we have organized some travel packages which enable the visitor to visit more sights in less time.
Our cars are all Mercedes E-class, brand new, safe, tidy, and totally legal.  The fact that we are the drivers of our cars means that we deeply understand our customers' needs and consequently this helps to provide them with a better and more efficient service.  Our fully equipped cars can transfer you and your family (special children's seats are provided) with safety whichever your destination is in Greece.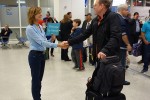 We are 24 hours a day at your disposal.
Comfort – Punctuality – Luxury – Discretion.  
We will be happy to offer you our service,
With regard yours sincerely,
Christos and Maria Didaskalou.